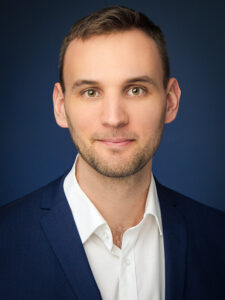 Contact:
Room: 02-151
Phone: 06131-3924311
E-Mail: jblechar@uni-mainz.de
Position:
Pharmacist
PhD student/ Reasearch Assistant
Fields of research:
Enteric-coated oral dosage forms
Biopredictive dissolution and disintegration of solid oral dosage forms
Publications
Journal Articles
Blechar, J. A

., Al-Gousous, J., Wilhelmy, C., Postina, A. M., Getto, M., & Langguth, P. (2020). Toward Mechanistic Design of Surrogate Buffers for Dissolution Testing of pH-Dependent Drug Delivery Systems. 

Pharmaceutics

, 

12

(12), 1197.

Fu, M., Al-Gousous, J., Blechar, J. A., & Langguth, P. (2020). Enteric Hard Capsules for Targeting the Small Intestine: Positive Correlation between In Vitro Disintegration and Dissolution Times. Pharmaceutics, 12(2), 123.
Fu, M., Blechar, J. A., Sauer, A., Al-Gousous, J., & Langguth, P. (2020). In Vitro Evaluation of Enteric-Coated HPMC Capsules—Effect of Formulation Factors on Product Performance. Pharmaceutics, 12(8), 696.
Al-Gousous, J., Ruan, H., Blechar, J. A., Sun, K. X., Salehi, N., Langguth, P., ... & Amidon, G. E. (2019). Mechanistic analysis and experimental verification of bicarbonate-controlled enteric coat dissolution: potential in vivo implications. European Journal of Pharmaceutics and Biopharmaceutics, 139, 47-58.
Patents:
Patent Application No. PCT/EP2019/077501. Submitted to European Patent Office on 10.10.2019. Application Status: Pending.
Patent Application No. DE 10 2018 129 419.0. Submitted to German Patent and Trade Mark Office on 22.11.2018. Application Status: Pending
Teaching:
Practical training in biopharmaceutics for students in the 7th term